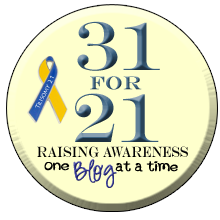 Grab This Button
Last year I undertook the 31 for 21 challenge - to blog every day in October (31 times) to raise awareness about Down syndrome (Trisomy 21). I want to do it again this year, so today is Day 1!
The purpose of this challenge is to raise awareness, which I think is important. I like to be able to show readers what life is like for, and with, a person with Down syndrome. I do, of course, like to point out that this is just ONE person - my son - with Down syndrome. Individuals with Ds come in all shapes, sizes and ethnicities; while there are physical traits and behavioral characteristics that can be common among the population, each person is unique beyond possessing a third copy of the 21st chromosome.
Anyway, I plan to continue blogging in the manner I always do, which is to try to be as honest as possible. In some ways Pacey is just like any other almost-6-year-old and in some ways he's not. Parenting him presents unique challenges every day, just as parenting my daughter does.
I won't be posting about Ds every day either...again, I like this blog to reflect my life and Ds doesn't rule my world all day every day.
Obviously I'll be struggling to come up with topics so if there is anything you'd like to know about my life or would be interested in hearing my thoughts on, ask away!
Off we go...